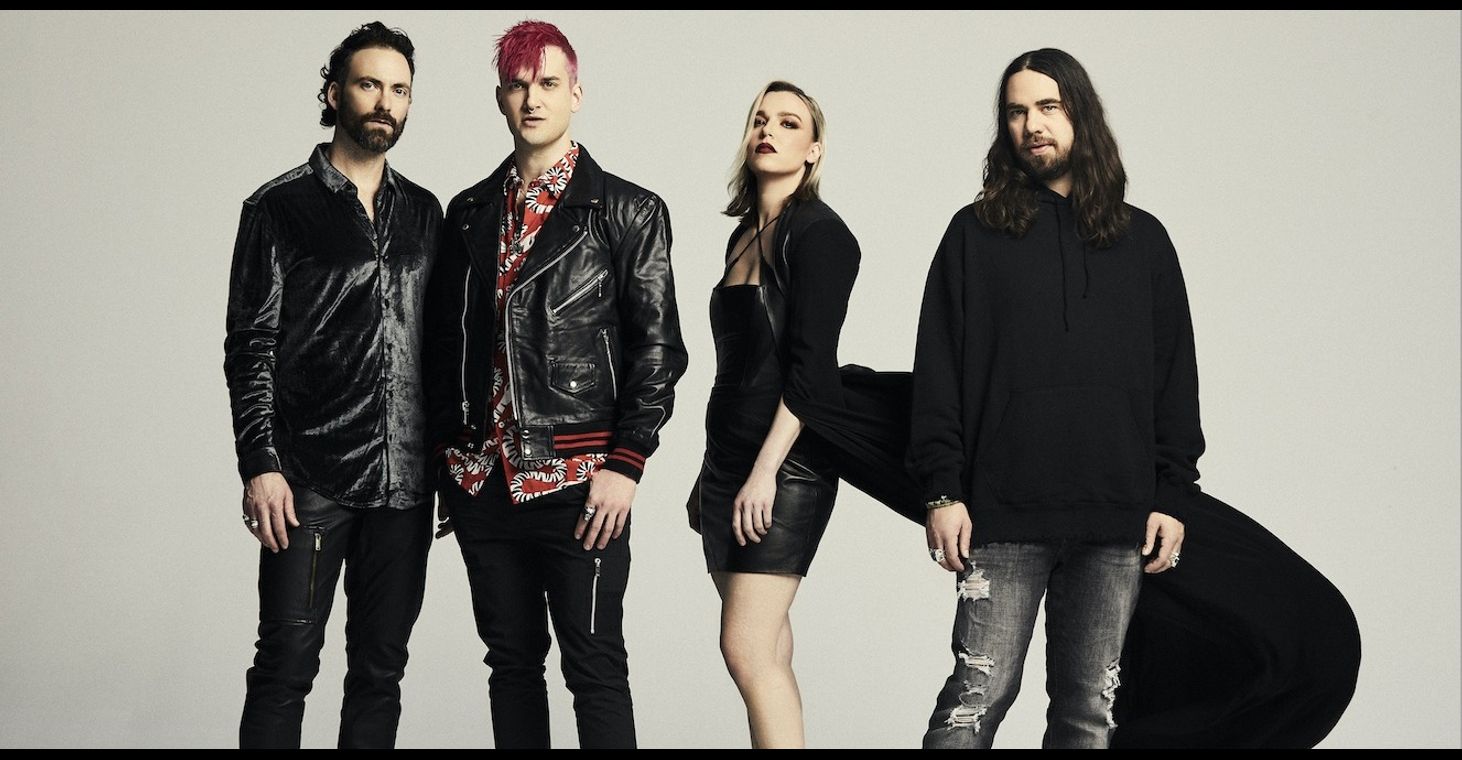 Halestorm
Back From The Dead Tour 2023
& Special Guest: Black Veil Brides
We turn to rock'n' roll for affirmation, empowerment, and survival. It ushers us through the most uncertain moments and enables us to shout down anything life throws at us with a wide smirk and a middle finger raised. Rather than shrink in the face of uncertainty and darkness, Halestorm consistently rise up rougher, stronger, and louder. On their fifth full-length album Back From The Dead [Atlantic Records], the Pennsylvania-bred and Nashville-based GRAMMY® Award-winning RIAA Platinum quartet—Lzzy Hale (vocals, guitar), Arejay Hale (drums), Joe Hottinger (guitar), and Josh Smith (bass)—turn up the volume across the board. The musicianship hits harder. The songwriting cuts deeper. The spirit shines brighter.
Ultimately, they've delivered an uncompromising and undeniable body of work that's Halestorm through and through.
"When you listen to this record, I want you to know you're not alone and you can survive anything no matter what," Lzzy exclaims. "I personally needed the music to save me. It's how I carved myself out of a dark spot. It has the debauchery. It has the self-rediscovery. It also keeps the faith intact. I hope fans see themselves in it."
The title track not only set the tone for the creative process, but it also served as a mission statement and a call-to-arms. Throughout 2021, the band wrote and recorded in Nashville and Los Angeles, working with longtime collaborators Scott Stevens of The Exies and producer Nick Raskulinecz [Alice In Chains, Deftones]. Upon writing "Back From The Dead," the floodgates opened. Rolling Stone described it best as "a biting but cathartic howler about overcoming all obstacles – even death," and the song became the band's sixth #1 at rock radio. Yet it held an even more profound significance for the musicians.
"As soon as I wrote 'Back From The Dead,' I knew exactly what I wanted to say if I ever got back on stage," she admits. "On this record, we endeavored to be everything we musically are, but elevated to 11. That goes for the vocals. My little brother raises the bar once again on the drums. Joe's guitar playing is unbelievable, and Josh killed it. We laid it all on the table. Once we did 'Back From The Dead,' we knew where we were going."
On its heels, the single "The Steeple" swings from a hammering groove towards a cathedral-size chorus, affirming the transformative power of rock 'n' roll. In the wake of a guitar solo, Lzzy exorcises a rafter-reaching scream, practically shaking the sky.
"We made the song about the communion we have with one another," she goes on. "When you're surrounded by a crowd at a show, there's a release. Think about the first concert you went to when music changed your life. As we get older, we still heal and grow through music. This is our church, and we're in this together."
Elsewhere, "Wicked Ways" kicks down the door with uncontainable attitude amplified by gnashing guitars and propulsive drums. "It's one of the heaviest songs on the record," she goes on. "I'm coming to terms with the fact nobody is inherently all good or evil. We all have a dark side."
On "Strange Girl," the frontwoman utilizes a vocoder for the first time on the bridge, while "Brightside" teeters between manic verses and a chantable refrain punctuated by a healthy dose of sarcasm.
"It's different for us," she reveals. "When you're in a weird spot, you try to look for the silver lining, but life can really suck. So, I got a little sarcastic and spiteful with the lyrics."
On the other end of the spectrum, naked acoustic guitar and strings underline her soulful delivery on the introspective and incisive "Terrible Things" as she wrestles with demons and ponders, "In my dreams, I believe we're not these terrible things." Everything culminates on the piano-driven finale "Raise Your Horns." Practically holding back tears, her voice rings out, "Raise your horns, raise 'em high, let 'em soar, let 'em fly, up through the heavens forever more."
"Thematically, it's about realizing you are your own hero," she continues. "We've survived the external and internal anguish. We're all here together, and that's what matters. I love the juxtaposition of the title being traditionally 'metal,' but the song is only piano and vocals. I want to see everyone raise their horns."
Halestorm have elicited an emotional, physical, and spiritual reaction from audiences worldwide since it began as a childhood dream of sister and brother Lzzy and Arejay Hale. The group scored a GRAMMY® Award in the category of "Best Hard Rock/Metal Performance" for "Love Bites (So Do I)." They became the first female-fronted band to hit #1 on the Active Rock radio charts, and cumulatively, their songs have racked up north of 1 billion global streams. In 2019, "Uncomfortable" marked their fourth #1 at Rock Radio and garnered their second GRAMMY® Award nomination. Crowned "Rock Artist of the Decade" by Loudwire, they've toured with legends such as Heaven & Hell, Alice Cooper, and Joan Jett, to name a few.
Simultaneously, Lzzy's voice has resounded across popular culture. She has collaborated with Evanescence, Dee Snider of Twisted Sister, Apocalyptica, Mark Morton of Lamb of God, and The Hu. She cut the theme song to NETFLIX's "Thunder Force" with none other than Corey Taylor of Slipknot, Scott Ian of Anthrax, and original Slayer drummer Dave Lombardo. Her various television credits include hosting AXS TV's "A Year in Music," serving as a judge on HitParader's upcoming "No Cover," and supplying the singing voice for Bella Thorne in the Prime Video hit "Paradise City." She strives to foster a dialogue around
mental health, and, as such participated in a GRAMMY® Mental Health panel last fall. A symbol of empowerment for young women in rock, she gave the keynote speech at the Little Kids Rock Modern Band Summit and recently became Gibson Guitars' first-ever female brand ambassador and hosted the annual She Rocks Awards presented by the Women's International Music Network.
In the end, Halestorm truly sound as alive as ever on Back From The Dead.
"I'm so grateful to be in this band," she leaves off. "I still love the way music makes me feel. I love writing, performing, and walking on stage every day. Personally, Halestorm has allowed me to be the best version of myself. That's what the band means to me."
Titelfoto (c) Jimmy Fontaine